Two full day in-person course – 3rd and 4th March 2022
We are delighted in the first of these professional development courses to work with our peering colleagues at LONAP to bring their excellent "Introduction to Routing, Peering and BGP" training course to Ireland.
The training course has been developed and fine tuned over a number of years and is aimed at anyone who wishes to learn the principles of Service Provider networks: Internet Peering, Transit, and how to understand and create a BGP configuration and routing policy.
The course will be delivered by Rob Lister, a senior member of the LONAP engineering team with over 20 years networking experience in Internet Exchange and peering networks. The course is structured to enable significant one to one engagement with those attending
Introduction to Routing, Peering and BGP is a two day introductory workshop covering:
Internet: Peering and Transit
Routing technology overview
7 Layer OSI model and IP
Basics of IP subnetting: CIDR, IPv4 and IPv6 addressing
Using the command line (CLI)
Configuring an IGP, iBGP
Configuring BGP for peering and transit
Route servers
IRRDB and RPKI
Routing and peering policy
MANRS
Tools:  INEX IXP Manager Portal, PeeringDB and others.
The two day, in-person, course is scheduled to take place on Thursday, 3rd and Friday, 4th March near St Stephen's Green, Dublin 2. Day 1 will begin at 10:15am to enable those travelling to Dublin the opportunity to travel that morning.
Spaces on the course are limited to enable effective engagement with those delivering the training. All attendees must commit to attending both full days in order to register.
Who should attend? Ideal for anyone wishing to learn the principles of Service Provider networks: Internet Peering, Transit, and how to understand and create a BGP configuration and routing policy.
How to Apply To apply to attend this course, please EOLAS@inex.ie for further information. Please do not apply to attend unless you are confident that you can attend both days of the course in full.
There is no charge to attend this course. We are very grateful for the support of LONAP and in particular Rob Lister to bring this course to the INEX community in Ireland. Accommodation is not included and must be independently arranged by those attending.
Course Prerequisites
CCNA or equivalent experience and/or;
Being engaged in a role within a peering network, (e.g. NOC, network teams, peering or operations)
You will need to bring a laptop computer with WiFi and power supply.
You will need an SSH2 client installed such as PuTTY (windows) or in-built "ssh" terminal for Mac
Some prior knowledge of using the Cisco/Arista or similar CLI would be beneficial, but is not essential.
What's it like? The course starts with a refresher on Layers 1-3 in the OSI model (Cabling, Layer 2 networking, IP Subnetting) and covers the principles of Service Provider networks: Transit, Peering, Autonomous Systems, routing protocols.
You will start with a blank configuration, and over two days build a fully working network with BGP.
Using hands-on labs, we guide participants through configuring two routers running OSPF (as an example IGP) with iBGP and eBGP sessions to multiple Transit networks, and then establish peering with other participants both over an IXP and using a route server.
Note: Although we do cover IPv6 addressing in this course, the configurations are done with IPv4. However, the principles for BGP are the same for IPv6.
The afternoon of day 2 is reserved for troubleshooting, routing security and further exploration of routing problems that can occur: route leaks, prefix hijacks and blackholes.
We leave the training lab running for 2 weeks after the course, should you wish to log in again to revisit any of the labs, or just experiment further. (Further access is available provided there is no other course due to run in the lab.)
Speakers
Rob Lister, Senior Engineer at LONAP

Trainer for Routing, Peering and BGP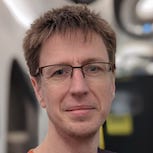 Biog: Rob started as LONAP's first full-time Senior Network Engineer in January 2012 to support the day-to-day operations and growth of the exchange; he has significant experience in layer 2 peering and IXP networks in particular. Rob deals with most of the day-to-day support queries, new connections and upgrades, and is happy to have a chat on the phone about anything, but particularly if it's about peering at LONAP.

Rob has worked in a number of roles including technical support, training and system administration for a variety of companies including Demon Internet, McLaren F1 and LINX.

When not lurking in a data centre, he can often be found riding or fixing bicycles, and is a volunteer for various organisations in London.