INEX at RIPE 73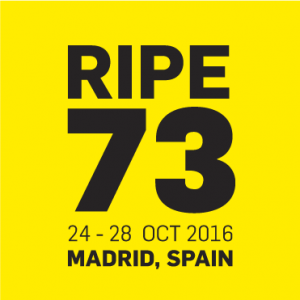 INEX's CTO, Nick Hilliard will be attending the RIPE 73 meeting in Madrid from 24 – 28 October and Eileen Gallagher will be there for Monday and Tuesday. Delighted to meet up with any existing members or those interested in finding out more about INEX and peering in Ireland. Nick will be speaking in the Connect working group on Wednesday, 26th at 12noon.
What is a RIPE meeting?
A RIPE Meeting is a five-day event where Internet service providers, network operators and other interested parties from around the world gather to:
Participate in discussions about the policies and procedures used by the RIPE NCC to allocate Internet number resources
Participate in the RIPE Working Group sessions to discuss current technical and policy issues
Share experiences, latest developments and best common practices
Develop their network of peers in the Internet community
Meet at lunches, coffee breaks and informal social events
If you can't attend the RIPE meeting in person, you can participate (very effectively) remotely.
Here's the link for some further details on remote participation