New Look Website for IXP Manager
92 IXPs around the world are Powering Peering with IXP Manager
110 community individuals have contributed to the IXP Manager project through GitHub
104 software releases over ten years 
New website located at https://www.ixpmanager.org/
There are almost one hundred internet exchange points (IXPs) around the world that are Powering Peering using IXP Manager, including INEX where the platform was first developed. In recognition of this upcoming milestone, a new website for IXP Manager, which provides a better insight to the world's favourite IXP platform has been launched.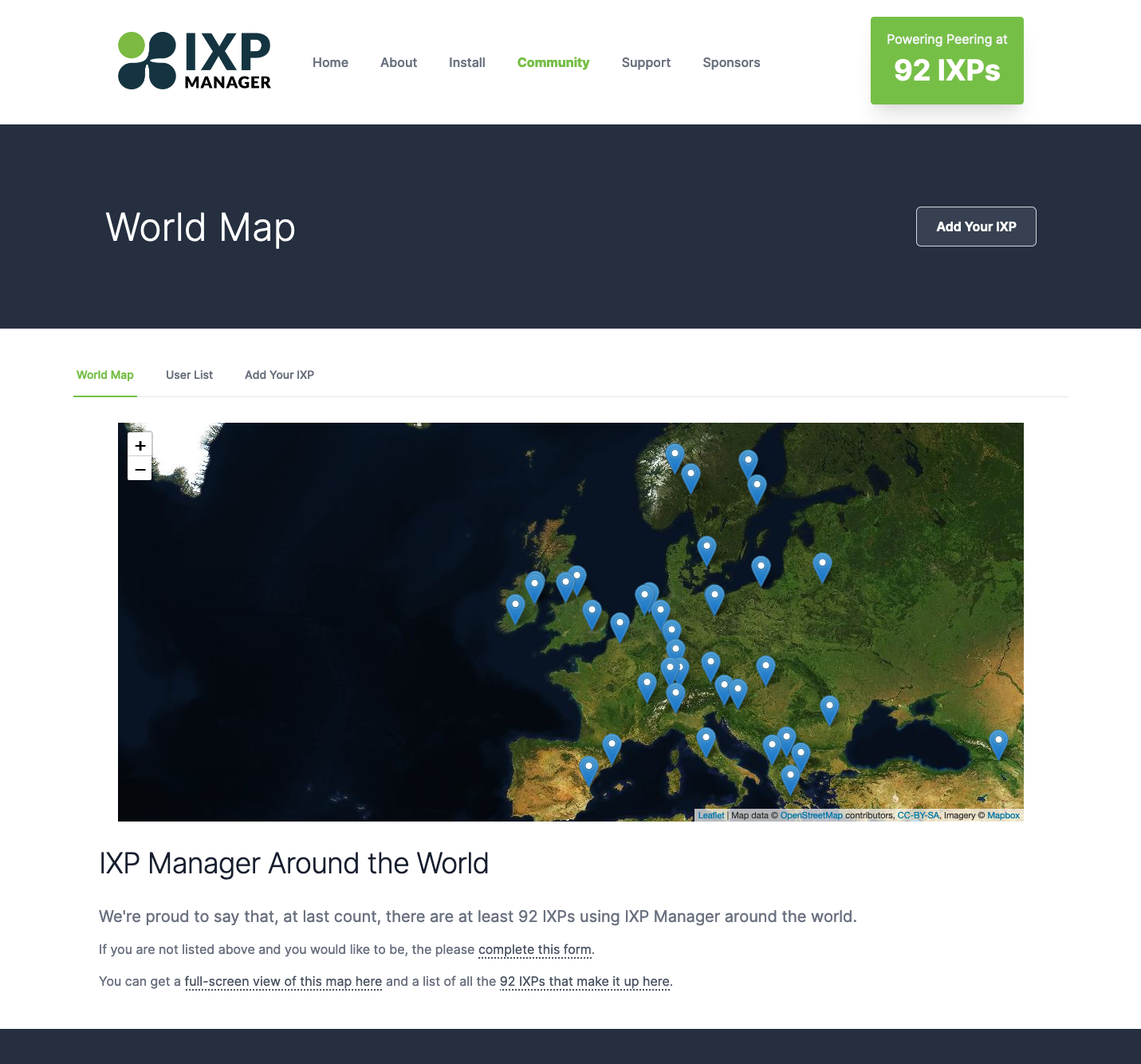 IXP Manager was released as free and open source software in 2011 by INEX, the internet peering point for the island of Ireland. This was done for the good of the internet and INEX continues to oversee the project. Together with the financial support of industry patrons; sponsorship from IXPs using the platform; and community support, IXP Manager has facilitated the opening and continued development of IXPs right around the globe. 

Ongoing development of IXP Manager is focused on delivering the functionality to meet the evolving requirements of IXPs who use the platform so they, in turn, can meet their members' peering needs. Thanks are extended to the existing patrons for helping to continue Powering Peering: the Internet Society (ISOC); Facebook;  APNIC and the Canadian Internet Registration Authority (CIRA). 

The continued success of the IXP Manager project is best realised when those IXPs who use it, and benefit the most from it, support the project. Current IXP sponsors are INX (South Africa), STHIX (Stockholm, Sweden), GRIX (Greece),NaMeX (Rome, Italy) and InterLAN (Romania). Further sponsorship from other IXPs using the platform is welcome https://www.ixpmanager.org/sponsor-now. 

As an open source project, IXP Manager promotes a "support, out in the open" model through public mailing lists and GitHub Issues. The new site has an improved support area which provides a consolidated summary of the available resources including the mailing lists, official documentation, and presentations by the core team. This support has been reinforced for those implementing IXP Manager at their exchanges by creating a video training syllabus which is now available via the IXP Manager website and is being added to regularly.

The full list of the nearly one hundred IXPs using IXP Manager worldwide and a world map showing the global reach of the platform is on the new site: https://www.ixpmanager.org/community/world-map. Any other IXPs using the platform that are not currently included are invited to submit their details at the same location.

With this new website, the team at IXP Manager wanted to recognise the wider community who contribute to the project with code, documentation and opening and working on feature and support requests. In all, 110 individuals, thus far, have worked with the project through GitHub and all those that have made at least five contributions are welcome on the new team page https://www.ixpmanager.org/about/team.

This new website reflects the professionalism and maturity of the platform itself and the essential internet services it helps enable.
Peering is good for us!